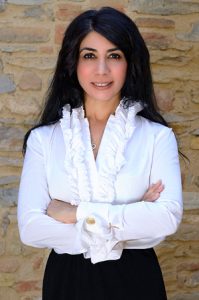 Sheida Shoalehvar has practiced criminal law for over 8 years. Ms. Shoalehvar is an attorney specializing in Criminal Defense and Immigration cases.  Our staff speaks Spanish and other languages.
A top rated criminal defense firm, Sheida Shoalehvar has successfully litigated hundreds of felony and misdemeanor criminal cases including murder, robbery, sex crimes, narcotic crimes, DUIs, domestic violence crimes, and theft crimes. We have represented successfully hundreds of clients at trial and all other stages of courtroom proceedings, including arraignment, bail hearings, preliminary hearings, probation violations and sentencing hearings, throughout the United States.
Ms. Shoalehvar received her BA and JD law degree from Southern California Institute of Law. Ms. Shoalehvar was admitted to the State Bar of California, United States District Court, Central District of California, and the United States Court of Appeals on 2008. Ms. Shoalehvar is a member of American Bar Association, State Bar of California, Attorney's for Criminal Justice, the National Association of Criminal Defense Lawyers (NACDL), California Attorney's for Criminal Justice (CACJ), the Criminal Courts Bar Association (CCBA), San Fernando Valley Bar Association and American Iranian Bar Association.
Ms. Shoalehvar worked in the Los Angeles District Attorney's Office from 2007-2009. While working in the District Attorney's office, Ms Shoalehvar learned how to evaluate the Prosecution's case; both the strengths and weaknesses. This experience has allowed her to aggressively defend her client's before they go to court, instead of waiting for the prosecutor to initiate the case. She has been successful on numerous occasions in resolving the matter before any charges are filed by having the charges rejected or mitigated. Having a working relationship with the police is also the added advantage that her client's seek. Ms. Shoalehvar has made many long lasting professional relationships with the police and prosecutors, which can help change the outcome the outcome of a case before its filed by those who investigate the case.
Prior to working for the District Attorney's Office, Ms. Shoalehvar worked as a law clerk for the Honorable Judge Bruce J. Einhorn, Federal Court of Appeal, Immigration Court, Los Angeles, CA, where she conducted legal research and analysis of U.S. immigration case law and regulations. This experience has served her to act quickly and aggressively in presenting her client's case to the police or prosecutors prior to charges being filed.
Each case presents individual facts which must be tailored in such a way as to benefit the client, where we focus on protecting the client in all aspects, as well as highlighting the factual weaknesses present in the case. Ms. Shoalehvar's resources include a Private Investigator on site, who can immediately begin an investigation to establish the facts in defense of the client – often before the police do; psychiatrists, psychologists, and therapists, in a wide range of sub-specialties to assist in your defense.
All clients meet and work directly with an attorney, not an office manager or paralegal. Testimonials and past cases reflect our personal attention to each case and the successful results achieved by our firm. Don't let the fear of an arrest or the justice system prevent you from obtaining a great legal defense, our initial consultation is FREE. When you contact us, there are no up-front fees or out-of-pocket costs.  Call immediately to schedule a free case evaluation today! Our criminal defense attorneys are here to assist you get the best possible results in your case.